Stadgar
Styrelsen
Vägbeskrivning

Kullabiblioteket
Broschyr om Kulla
Verksamhets-
berättelse
Russian Arctic Trip 2017
Marshall Maldens resa till ryska Arktis sommaren 2017
Bilder och text: Marshall Malden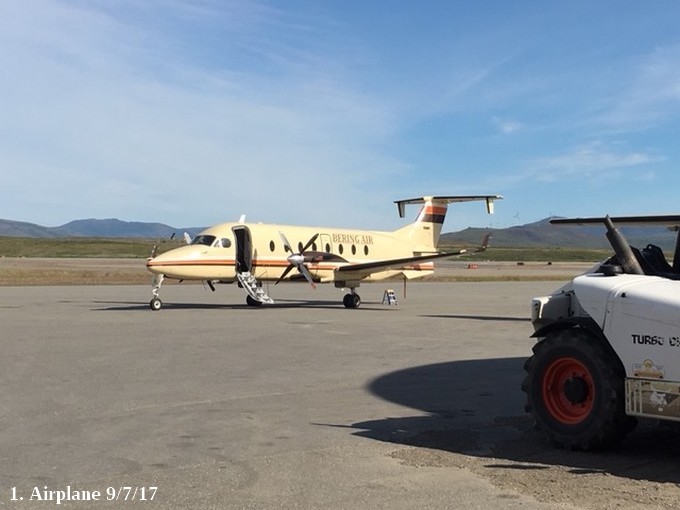 On July 9, 2017 I flew on this small plane for about 1 1/2 hours from Nome, Alaska to Anadyr, Russia. The two countries are only about 90km apart a bit farther north, as shown on the map.

| | |
| --- | --- |
| | Den 9 juli 2017 flög jag med det lilla planet i ca 1 1/2 timme från Nome, Alaska till Anadyr, Ryssland. De två länderna är bara cirka 90 km från varandra, lite längre norrut, som visas på kartan. |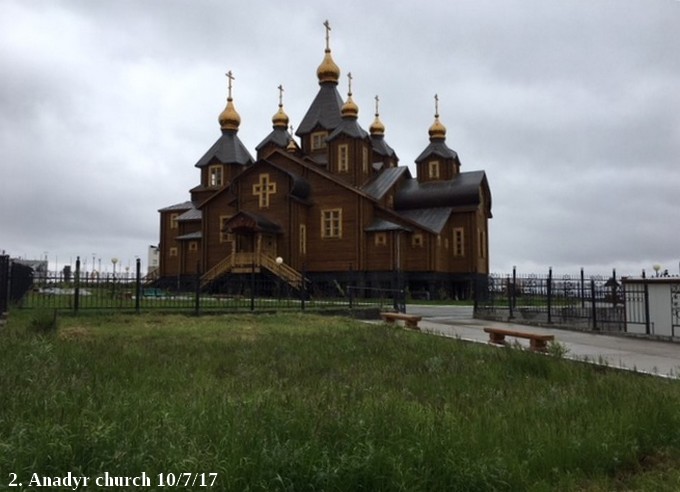 A beautiful, new Russian Orthodox Church in Anadyr.

| | |
| --- | --- |
| | En vacker, ny rysk-ortodox kyrka i Anadyr. |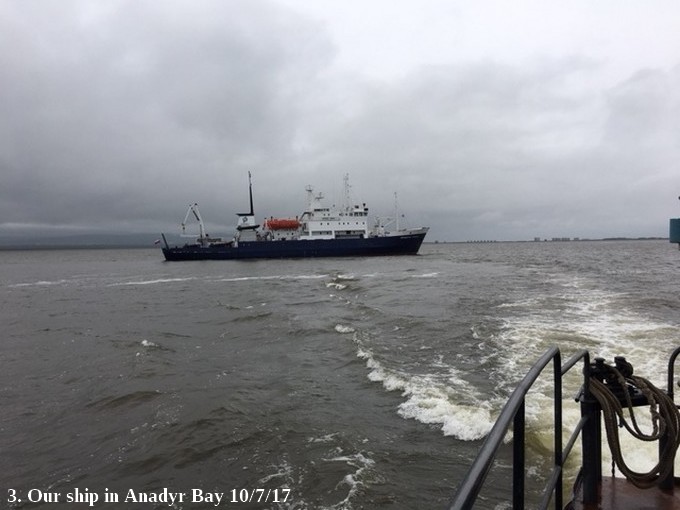 Our ship, Professor Khromov, waiting for us in Anadyr Bay.

| | |
| --- | --- |
| | Vårt skepp, professor Khromov, väntar på oss i Anadyr Bay. |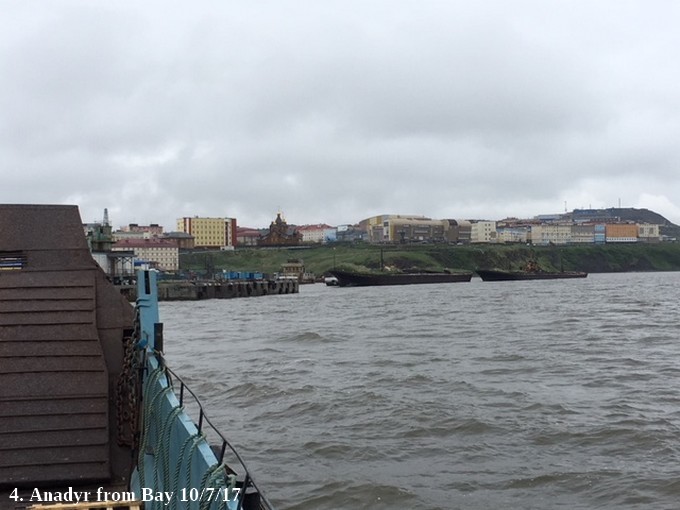 The city of Anadyr

| | |
| --- | --- |
| | Staden Anadyr |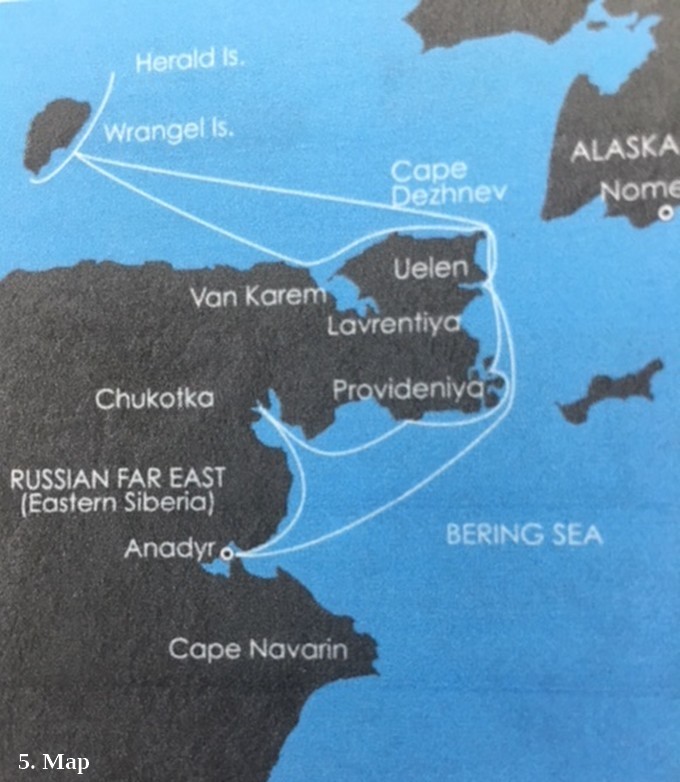 We started in Anadyr for this two week trip heading north and stopping at interesting locations along the way to Wrangel Island.

| | |
| --- | --- |
| | Vi påbörjade denna tvåveckors resa i Anadyr, reste norrut och stannade på intressanta platser längs vägen till Wrangel Island. |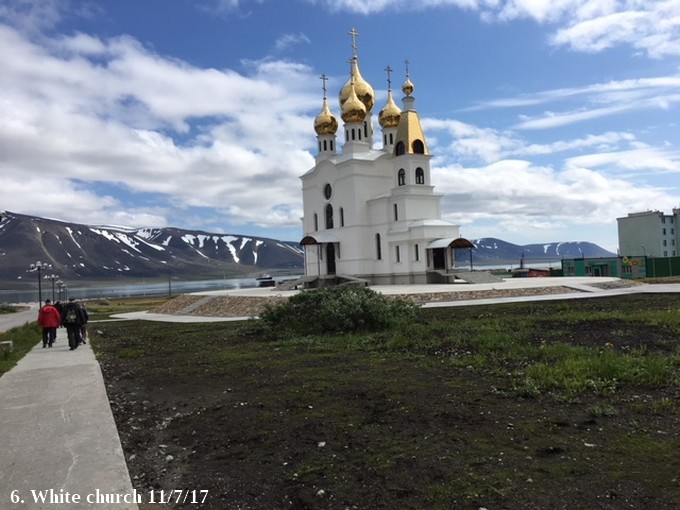 Our first stop was at Egvekinot with its beautiful white church.

| | |
| --- | --- |
| | Vårt första stopp var på Egvekinot med sin vackra vita kyrka. |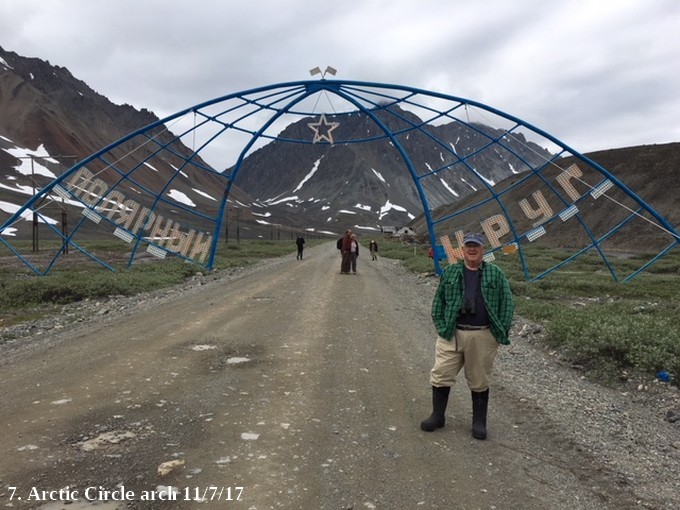 The Gulag prisoners were forced to make roads from the port to the coal mines. This arch marks the crossing of the Arctic Circle.

| | |
| --- | --- |
| | Gulagfångarna tvingades göra vägar från hamnen till kolgruvorna. Denna båge markerar läget för polcirkeln. |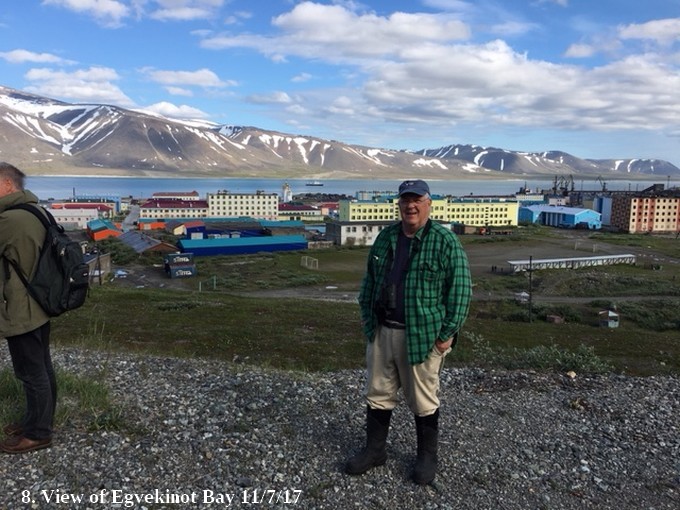 Egvekinot was built by Gulag prisoners as a port to ship coal.

| | |
| --- | --- |
| | Egvekinot byggdes av Gulag-fångar som en hamn för att skicka kol. |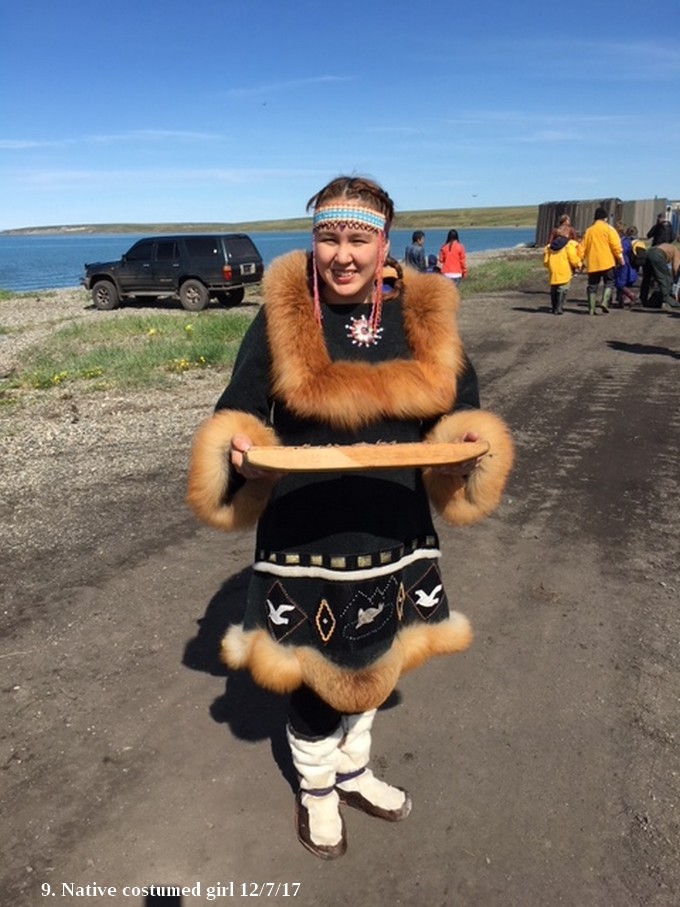 Our next stop was the small reindeer herding village of Konergino. We joined the villagers in a celebration of their history and culture.

| | |
| --- | --- |
| | Vårt nästa stopp var den lilla renskötarbyn Konergino, vi deltog i bybornas firande av deras historia och kultur. |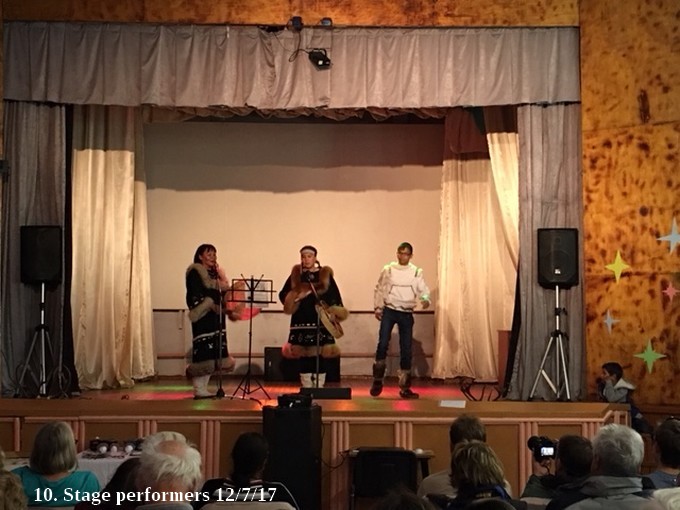 The young people performed amazing dances and music. There are competitions at villages along the coast in which these dancers, singers and musicians participate.

| | |
| --- | --- |
| | Ungdomarna utförde fantastiska danser och musik. Tävlingar förekommer längs kustens byar där dessa dansare, sångare och musiker deltar. |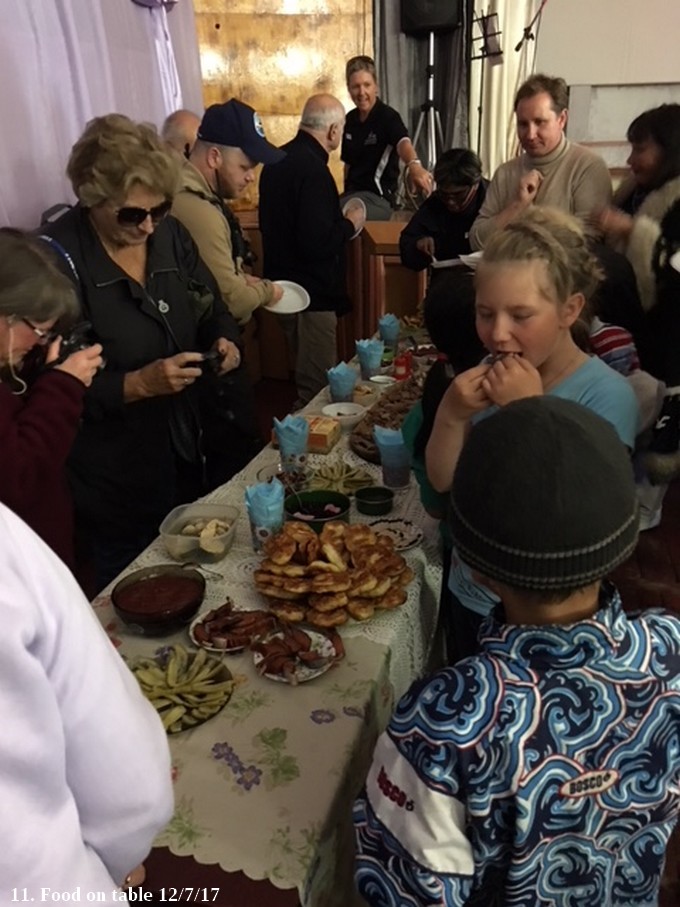 We sampled local food including whale, reindeer, walrus and many other delicacies.

| | |
| --- | --- |
| | Vi valde bland lokal mat som val, ren, valross och många andra delikatesser. |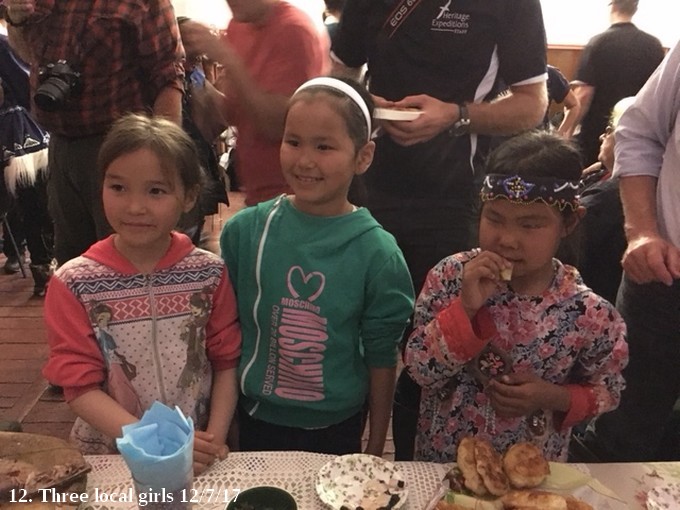 The children were very sweet and always smiling. Reindeer herding is still the major occupation for most of the villagers.

| | |
| --- | --- |
| | Barnen var rara och alltid leende, Renskötsel är fortfarande den stora sysselsättningen för de flesta byborna. |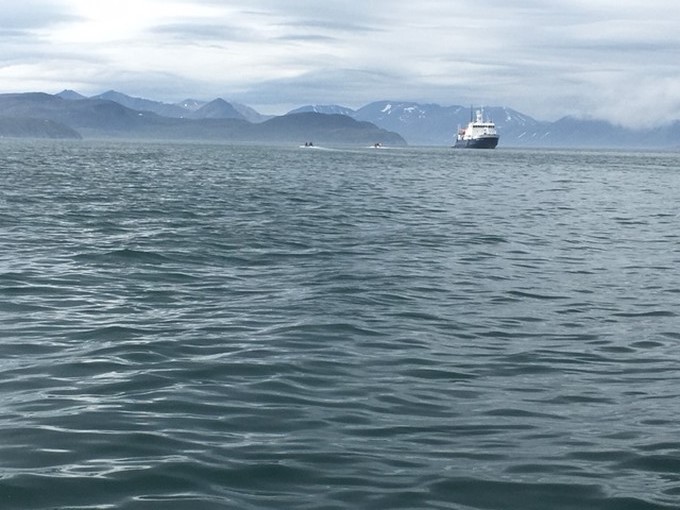 13. After Konergino we sailed up the coast to Yttygran Island where we were brought ashore in the motorized, rubber "Zodiac" rafts. 14/7/17

| | |
| --- | --- |
| | 13.Efter Konergino seglade vi upp längs kusten till Yttygran Island där vi tagna iland med motoriserad gummi "Zodiac" -flotten. 14/7/17 |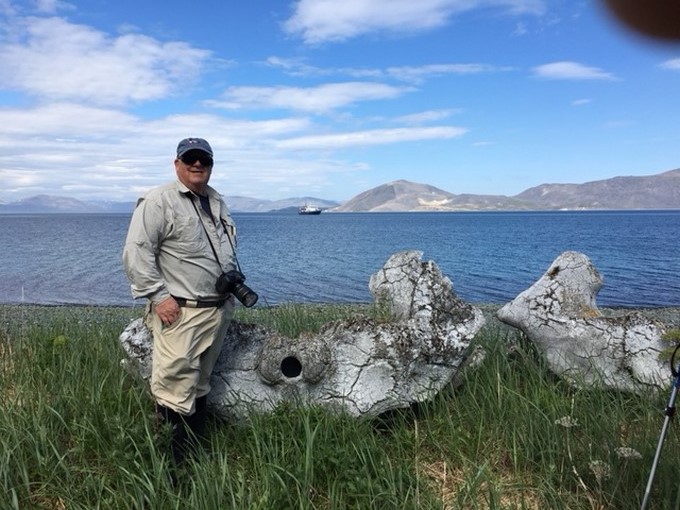 14. Yttygran Island has whalebone archaeological sites and is a beautiful place on a sunny Arctic day. Our ship is anchored in the bay. 14/7/17

| | |
| --- | --- |
| | 14.Yttygran Island har arkeologiska fynd av valben och är en vacker plats en solig arktisk dag. Vårt fartyg är förankrat i bukten. 14/7/17 |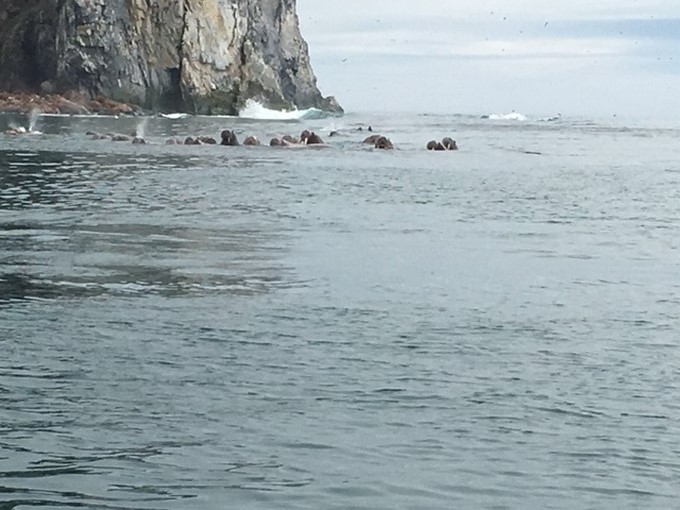 15. From the Zodic rafts we got very good views of walrus. Notice that they are numerous on the small beach. 14/7/17

| | |
| --- | --- |
| | 15.Från Zodic-flottarna fick vi mycket god vy över valrossarna. Observera att det är många på den lilla stranden. 14/7/17 |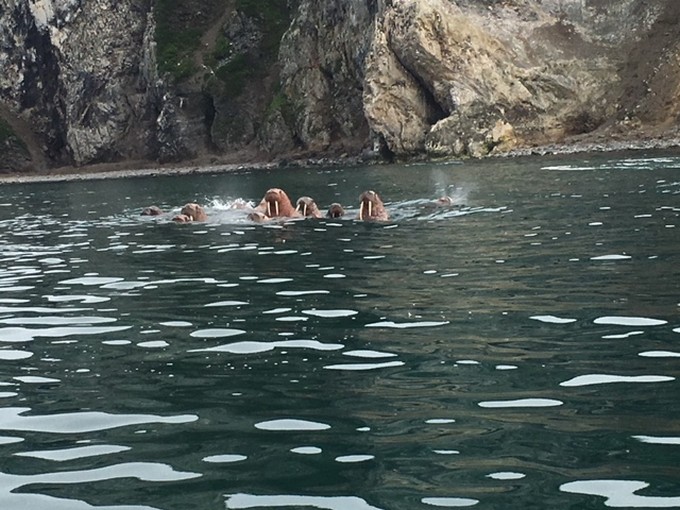 16. A group of walrus near our Zodiac. 14/7/17

| | |
| --- | --- |
| | 16.En grupp valrossar nära vår Zodiac. 14/7/17 |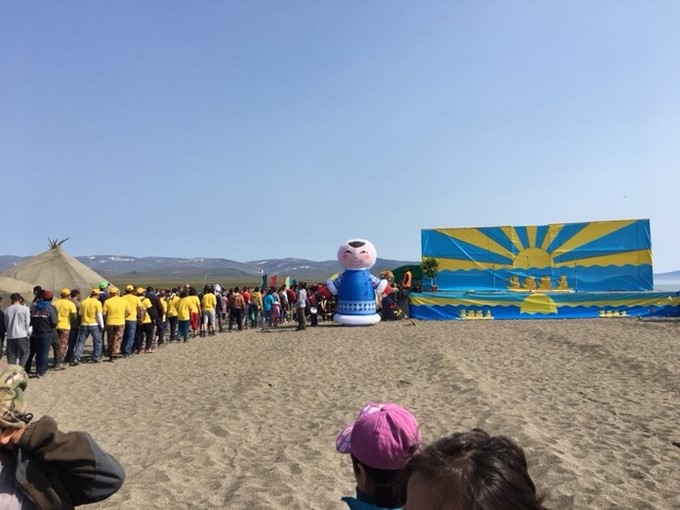 17. Teams lining up at Beringia Regatta. From Yttygran Island we sailed to Providenia Bay and the village of Novo Chaplino. The Regatta brings villagers together from around the Arctic for socializing and competing. 15/7/17

| | |
| --- | --- |
| | 17. Lag som ställer upp i Beringiaregattan. Från Yttygran Island seglade vi till Provideniabukten och byn Novo Chaplino. Regattan för bybor tillsammans runt Arktis för att socialisera och tävla. 15/7/17 |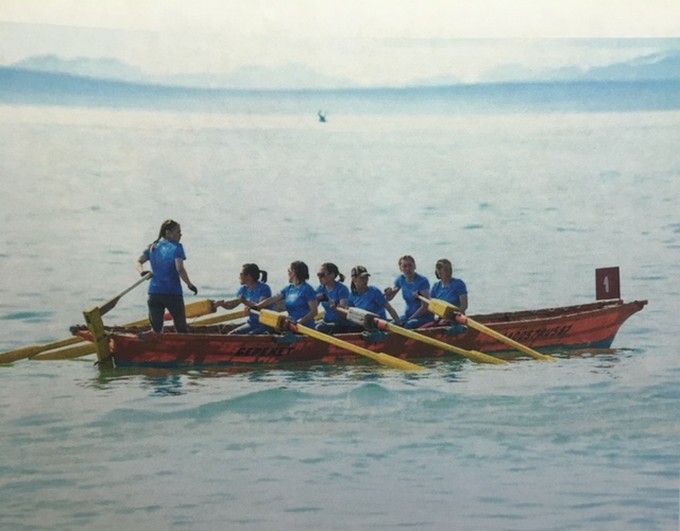 18. Women's rowing team in traditional walrus skin covered boats. 15/7/17

| | |
| --- | --- |
| | 18. Kvinnligt roddlag i traditionella båtar täckta med valrosskinn. 15/7/17 |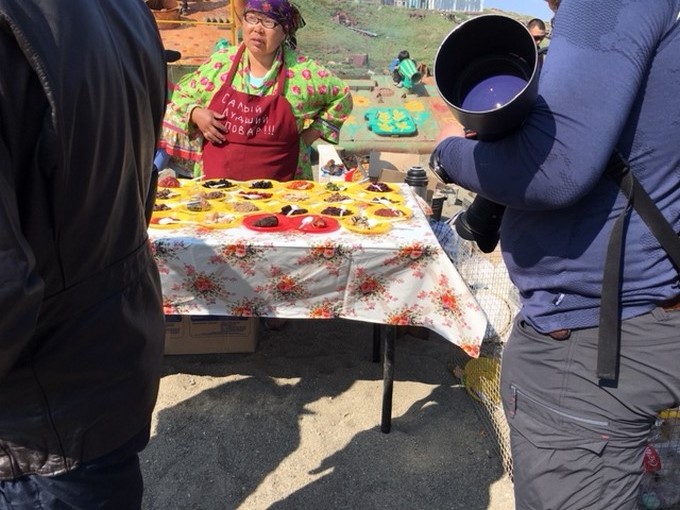 19. Local delicacies. Among others whale and walrus meat, sea cucumbers, and Mantak- thin slices of whale skin with blubber.

| | |
| --- | --- |
| | 19. Lokala delikatesser. Bland annat val- och valrosskött, sjögurkor och Mantak-tunna skivor av valskinn med späck. |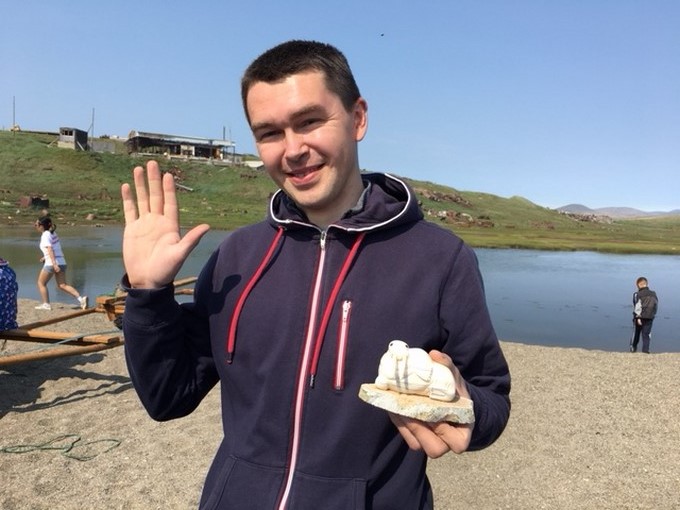 20. Ivory carver. Many types of artwork were on display and for sale by local craftsmen. 15/7/17

| | |
| --- | --- |
| | 20. Elfenbenskulpturer. Många olika slags konstverk visades upp till försäljning av lokala hantverkare. 15/7/17 |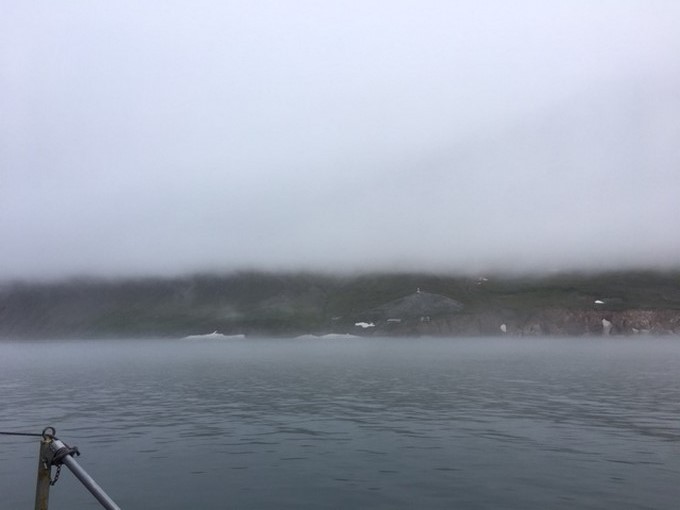 21. Cape Dezhnev Light House. We sailed from Novo Chaplino to Cape Dezhnev which is the north-eastern most point of the Eurasian continent. 16/7/17

| | |
| --- | --- |
| | 21. Cape Dezhneyfyren. Vi seglade från Novo Chaplino till Cape Dezhnev som är den nordostligaste punkten på Eurasiakontinenten. 16/7/17 |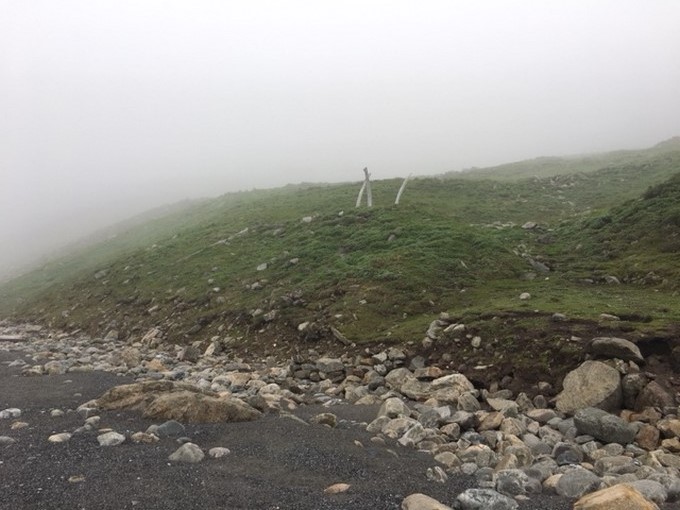 22. Cape Dezhnev beach. Quite foggy but interesting land scape and ruins. 16/7/17.

| | |
| --- | --- |
| | 22. Cape Dezhnevstranden. Ganska dimmigt men intressant landskap och ruiner. 16/7/17. |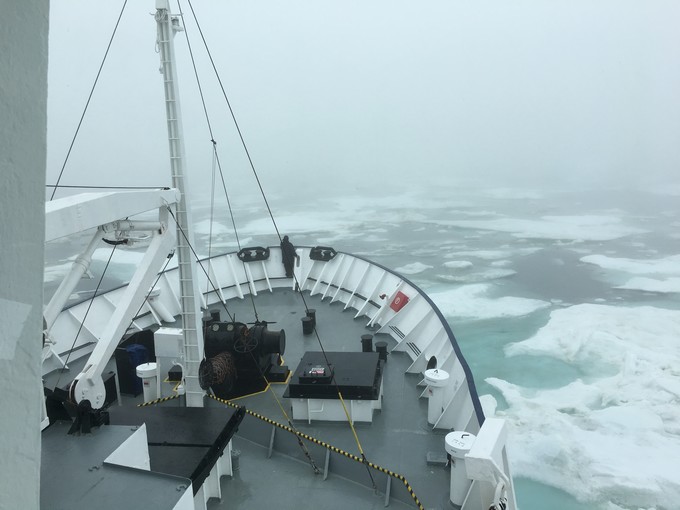 23. Ice. We left Cape Dezhnev and headed for Wrangel Island where we saw ice for the first time. 17/7/17.

| | |
| --- | --- |
| | 23. Is. Vi lämnade Cape Dezhnev och åkte till Wrangel Island där vi såg is för första gången. 17/7/17. |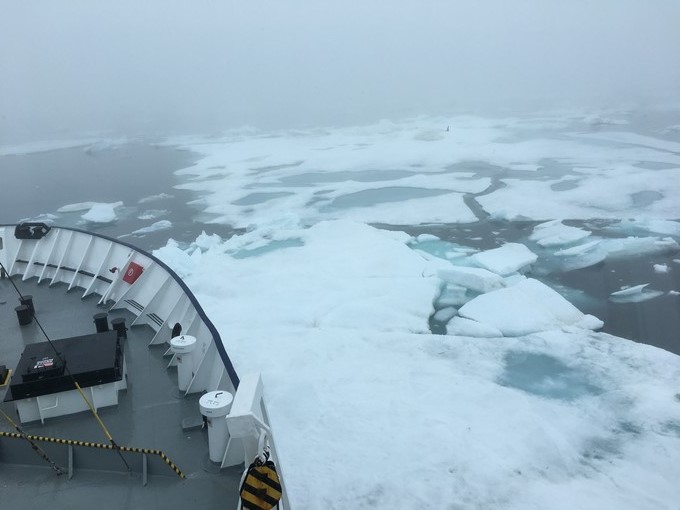 24. Beautiful ice in the fog. 17/7/17.

| | |
| --- | --- |
| | 24. Vacker is i dimman. 17/7/17. |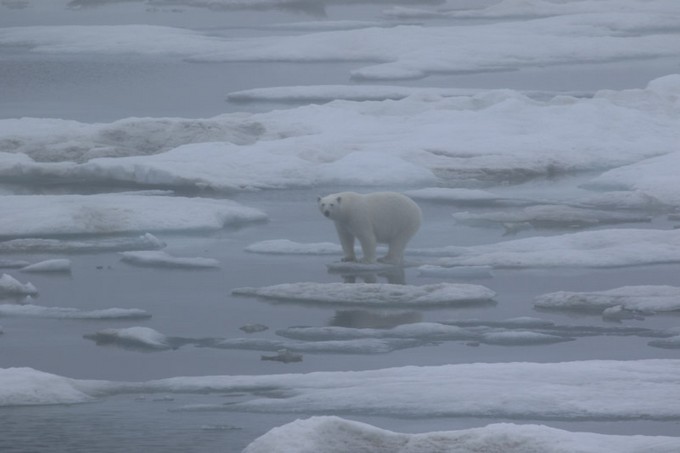 25. Polar bear near our ship on the way to Wrangel Island. 18/7/17.

| | |
| --- | --- |
| | 25. Isbjörn nära vårt skepp på vägen till Wrangel Island. 18/7/17. |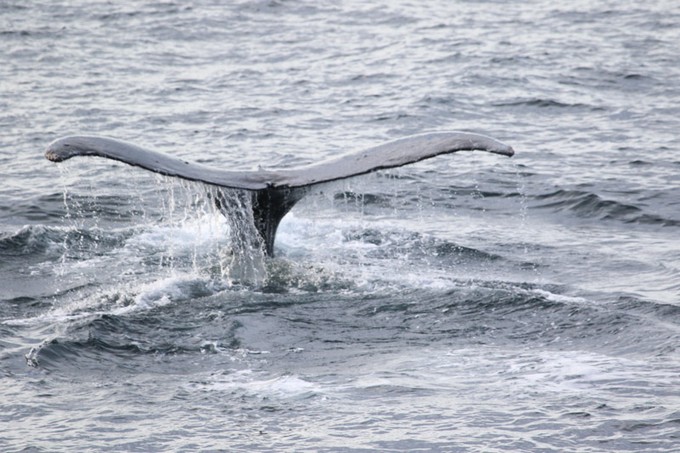 26. Whales were numerous along the way. 18/7/17.

| | |
| --- | --- |
| | 26. Vi såg många valar på vägen. 18/7/17. |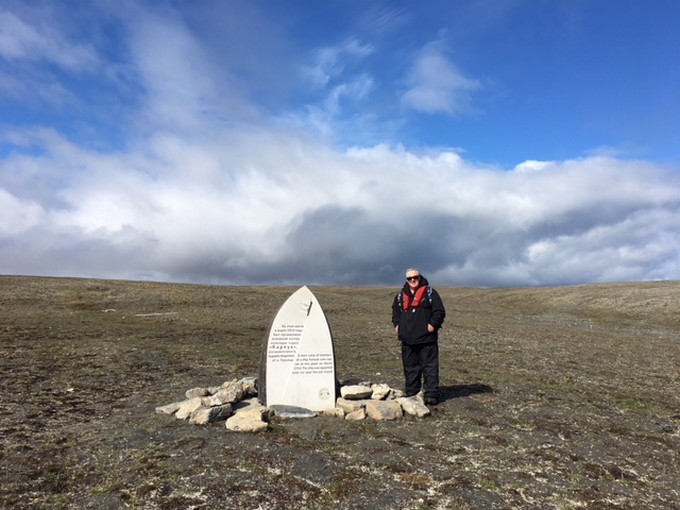 27. Wrangel Island. The monument erected in honor of the crew of the ship Karluck which was crushed in the ice near Herald Island in 1914. 19/7/17.

| | |
| --- | --- |
| | 27. Wrangel Island. Monumentet uppfördes till ära för besättningen på fartyget Karluck som krossades i isen nära Herald Island 1914. 19/7/17. |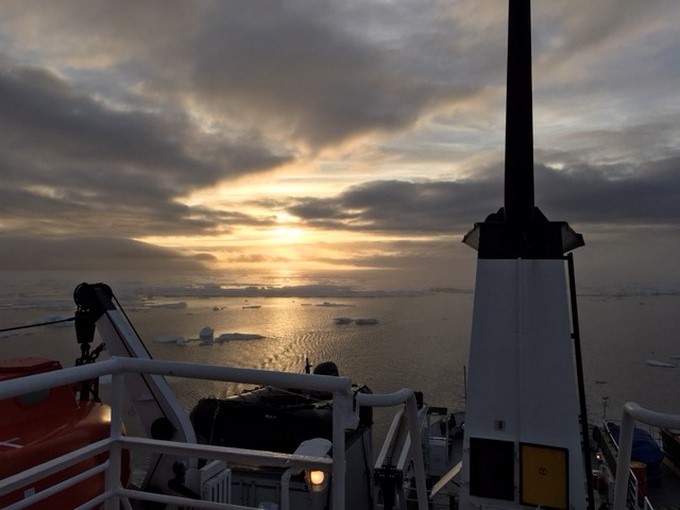 28. Midnight sun. Sailing back toward Anadyr after a wonderful trip in Arctic Russia. 19/7/17.

| | |
| --- | --- |
| | 28. Midnattssol. Seglar tillbaka mot Anadyr efter en underbar resa i det arktiska Ryssland. 19/7/17. |
Who is Marshall Malden?

By Lena Calmestrand and Marshall Malden

Translation: Marshall Malden and Lars Dahlberg


Marshall Malden lives in Ashland, Oregon in the U.S. He is the great grandson of Anders Gustaf Nordström of Smedstorp, Upphärad. Smedstorp was formerly called Djurstubacken which, coming from Upphärad, is located on the right side of the road just beyond the tomb crypt at Sjökullen.

Anders Gustaf Nordström was Marshall's grandmother's father. He was born in 1850, the son of blacksmith Johan Nordström, born in 1820 in Gärdhem. Considerable research has been done regarding Gustaf Nordström's sudden disappearance from Upphärad in 1873. One of the reasons could have been the aftermath of the destruction of Andreas Roos' cottage by a group of Upphärad citizens in 1873. But let's start from the beginning.

The extended Roos family settled in Upphärad in 1855 and had roots there for exactly 100 years. After their arrival, thefts became frequent, many of them at night, and animals began disappearing. All of this caused concern among the citizens who felt that their village was no longer the peaceful place it had always been.

After putting up with the thefts and troubles for nearly 20 years the villagers finally had had enough and many of them joined Bjärke farmers who were heading toward the "Roosens" to try to get them to leave the area. The leader of the mob was Johan Friberg, a big, strong carpenter from Bredfjällsmaden. His friend, Anders Gustav Nordström, was most likely with him. It was the spring of 1873. Andreas Roos lived with his family in Lilla Gärdet, not far from Albogården or Bredfjällsmaden. The villagers' timing was good because Andreas was away on "business" with only his wife and children at home. The mob tore down the little house but told the wife to take the children and go to the village to find shelter on their own and beg for food. Andreas returned home after a few days and promised to "mark" Johan Friberg for what he had done.

A few months later, a Saturday night in July, Johan Friberg's wife, Maria, was standing outside their house at Bredfjällsmaden waiting for Johan to return home from his work week at Kilehult (now Sjuntorp). As Maria watched through the twilight, she saw Johan's brother walking toward her. She was concerned because the brothers, employed nearby each other, usually walked home together. When Maria asked Johan's brother if he has seen Johan, the brother shakes his head and says he has not seen him. Maria is distraught and has no idea where Johan might be.

It was not until October that Johan Friberg's remains were found by two local workers, hidden under a rock. His clothes and boots were the only things to identify the skeletal body. He had been murdered by a shot to the back of his head.

Most people believed that it was Andreas Roos who committed the murder. He was interrogated by the authorities and there was a trial but he was released due to lack of sufficient evidence for a conviction.

Maria Friberg had many children to support and life was not easy for her. Initially, several of the children were auctioned off in the schoolhouse (now the Community Hall in Upphärad) to the highest bidder. After a few years, however, the children were reunited with their mother. Maria outlived Johan by 70 years. She died at the age of 99 and is buried at West Tunhems Cemetery.

But how did it go for Marshall's great grandfather Gustaf Nordström? Not only was his friend Johan Friberg murdered but a forced auction was held on his grandfather's farm to pay debts. Gustaf was registered in the local census records as living on the farm. In his despair he hit a county official associated with the auction and immediately disappeared from Upphärad. Another reason for his disappearance might have been that he feared for his life because of his involvement in the destruction of the Roos house.

A 1932 document from the Sauda, Norway police states that Anders Gustaf Nordström came from Småland to Norway in 1876. The same document states that he is "stateless." Apparently he never applied for Norwegian citizenship nor protected his Swedish citizenship.

In 1876 Gustaf began working in Norway as a "railroad blacksmith" on the Gravhals tunnel project, near Voss, on the Bergen to Oslo railroad line. He married Kari Eriksdatter Furdal in 1878 in Vaksdal. Their first daughter, Anne, was born in Vaksdal in 1879 and her sister, Augusta, Marshall's grandmother, in 1881.

After the Gravhals tunnel was completed in 1882, the Nordström family moved to Sauda where Gustaf worked as the "mine blacksmith" on the newly opened Allmannajuvet zinc mine. He worked there until the mine closed in 1898. Eventually, he took a job in Bergen working again as a blacksmith on the railroad. Kari and the girls remained in Sauda.

In 1903, from his rooming house in Bergen, Gustaf wrote a letter to his younger brother, Edvin, in Upphärad. He began with "Because it has been so many years since you have heard from me you probably haven't known if I was alive or dead." This letter was the first contact Gustaf made with his family since he left Upphärad 30 years earlier. He might have thought it was now safe to let his family know where he was and about his life since leaving home. He tells his brother, Edvin, that he would like to visit Sweden to see the family again but, according to Nordström descendants, he never returned.

Gustaf finished working in Bergen and moved back to Sauda where his daughters were preparing to marry local men. But a few weeks before Augusta's planned marriage to Lars Malde in July, 1905 her mother, Kari Eriksdatter, died suddenly. The marriage took place as planned but instead of immediately leaving with Lars for the U.S. Augusta stayed in Sauda with her sister for about two months to help get Gustaf settled after the death of Kari. Gustaf married Anna Teig in Sauda in 1906 and remained there until his death in 1942 at the age of 92.

Augusta and Lars initially settled in the predominantly Norwegian town of Poulsbo near Seattle, Washington in 1905 but moved later to Ballard, the Scandinavian section of Seattle. They raised a girl and six boys, one of which, Albert, born in 1914, was Marshall's father. In his teens Albert decided to change his last name from "Malde" to "Malden", probably thinking it sounded more American. The children grew up understanding and speaking Norwegian but mostly forgot it after leaving home.

Albert and his brothers went to Alaska at different times during the 1930's, working in gold mining and fur trapping. Albert studied at the University of Alaska and graduated in mining and geology in 1940. He was the only sibling to finish college.

Marshall was born in Fairbanks, Alaska March 3, 1941. The Japanese bombed Pearl Harbor in December of that year and his father spent much of WWII in the Aleutian Islands. During the war, Marshall, his sister, Marilyn, and their mother, Neva, lived in Oregon, where Neva was from. Albert joined them there after the war.

Marshall married Suzan in 1965 and worked in international business after college. His American company transferred him to Lund in 1970 to work in the marketing operation of AB Dixie Cup, a joint venture with Åkerlund and Rausing. Their two daughters, Ann-Britt and Andrea, were born in Lund in 1970 and 1972 respectively. The Maldens moved back to the U.S. in 1976, having no idea that Marshall would someday learn that he had Swedish relatives in the Upphärad/ Gothenburg area.

As Marshall grew older his interest in his Swedish ancestry increased and he began researching it on the internet. In March, 2010 I (Lena Calmestrand) received a phone call from an unknown person whose name was Hans Göran from Gothenburg. He said he had a long-time friend in the U.S. named Marshall Malden who had just learned that his great grandfather, Anders Gustaf Nordström, had been born in Upphärad and could Hans Göran help him find relatives that might still live there.

Marshall, in searching Norwegian church documents on the internet in February 2010 for more information about his Norwegian grandmother, found a document stating that her father, Anders Gustaf Nordström, was born in Upphärad on March 21, 1850 in what was then Elfsborgs Län (county). Hans Göran contacted the city of Trollhättan which, in turn, contacted me. I promised to investigate and very soon I found two brothers, Karl-Evert and Hasse, who were Marshall's second cousins. It was a very exciting moment!

Soon after finding the Norwegian internet document Marshall made plans for a brief visit to Upphärad in August of 2010 to show his family where his great grandfather was born and raised. But finding Karl-Evert and Hasse set in motion a plan to have a Nordström family gathering in Upphärad with some 30 relatives attending. I remember so well that it rained that day in August. A few of us first visited the cemetery to see the Nordström family graves. We then visited Kulla and continued on to the Smedstorp cottage where Anders Gustaf grew up. The sun came out and all of the relatives had gathered at Smedstorp along with a journalist and photographer from the local newspaper, Ttela. That evening we all gathered for a catered dinner at the Lindåsgården community hall. I think it was an unforgettable day for the Malden family. Since that family gathering, Marshall has stayed in close touch with many of his Swedish relatives and Karl-Evert has visited the Maldens in Ashland.

Marshall, Hans Göran Lagerholm, Karl-Evert Augustsson and Hasse Augustsson are all members of the Backstugans Vänner Association. You should also become a member!



Vem är Marshall Malden?
av Lena Calmestrand


Marshall Malden, bosatt i Ashland Oregon, USA är sonsons son till Anders Gustaf Nordström i Smedstorp, Upphärad. Smedstorp kallades förr Djurstubacken och ligger på höger sida av vägen strax bortom Hällkistan vid Sjökullen när du kommer från Upphärad.

Anders Gustaf Nordström var Marshalls farmors far och född 1850, och Gustaf var i sin tur son till smeden Johan Nordström född 1820 i Gärdhem. En hel del forskning har gjorts kring Gustaf Nordströms plötsliga försvinnande från Upphärad. En av anledningarna skulle ha kunnat vara konsekvenserna efter nedrivningen av Andreas Roos stuga på vårvintern 1873. Men vi ska ta det hela från början.

Släkten Roos kom att bosätta sig i Upphärad 1855 och blir kvar i exakt 100 år, detta blir startskottet för ett något annorlunda liv för den annars så lugna bygden. Stölder blir vanligheter, många sker på nätterna och en hel del djur försvinner.

När oroligheterna pågått i nästan 20 års tid får bygden nog och går tillsammans med Bjärkebönder man ur huse för att försöka sätta stopp för "Roosens" framfart. Det är snickaren Johan Friberg, själv boende på Bredfjällsmaden, stor och stark med händer som dasslock som går i täten för mobben troligtvis tillsammans med sin vän Gustaf Nordström. Vid den här tiden, på vårvintern 1873 bor Andreas Roos med sin familj på Lilla Gärdet, inte alls långt från varken Albogården eller Bredfjällsmaden. Tillfället är väl valt, för Andreas själv är inte hemma, han är ute i "affärer", hemma i stugan finns fru och barn. Det som sker är att folket tillsammans river ned det lilla huset och frun och barn får ge sig ut på bygden för att ordna härbärge och tigga. När Andreas Roos efter några dagar kommer hem lovar han dyrt och heligt att "märka" Johan Friberg.

Några månader senare, en lördagskväll i juli, står Johan Fribergs hustru Maria utanför huset på Bredfjällsmaden. Johan väntas hem från sin arbetsvecka vid Kilehult (i nuvarande Sjuntorp) med löningen på fickan. Maria står och spanar i skymningen när hon får se brodern till Johan komma förbi. Maria blir orolig, de brukar alltid ha sällskap hem eftersom de arbetar nära varandra. På Marias fråga svarar skakar brodern på huvudet, nej Johan har han inte sett till. Och kvällen övergår i natt och borta blir Johan.

Det skulle dröja länge innan man finner Johan Friberg. I oktober hittar två rallare ett skelett gömt under en sten och det enda som kan binda kroppen till Johan Friberg är kläder och stövlar. Han är mördad, skjuten i bakhuvudet.

De flesta var nog överens om att det var Andreas Roos som begått mordet. Han kallas till förhör, det blir rättegång och många vittnar, men … det finns inte tillräckligt med bevis som knyter honom till dådet så han släpps fri.

Maria Friberg har många barn att försörja och det blir inte lätt för henne. Flera av barnen utauktioneras i skolhuset (nuvarande församlingshemmet i Upphärad) till lägstbjudande. Efter några år kommer de dock att återförenas med modern. Maria överlever Johan med över 70 år. Hon blir 99 år gammal och ligger begravd på Västra Tunhems kyrkogård.

Men hur gick det då för Marshalls farfars far Gustaf Nordström. Inte nog med att hans vän Johan Friberg blev mördad, det hölls också tvångsauktions på hans farfars gård där Gustaf var mantalsskriven och i sin förtvivlad slår han till länsman i samband med auktionen och försvinner från bygden. Kanske fruktar han också för sitt liv, han hade ju trots allt deltagit i rivningen av Lilla Gärdet.
I ett dokument från 1932 står det att Anders Gustaf Nordström kommer från Småland till Norge 1876. I samma dokument står att han är statslös eftersom han tydligen aldrig ansöker om norskt medborgarskap och inte heller bevarar sitt svenska. Gustaf gifter sig 1878 i Vaksdal med Karin Eriksdotter Furdal och arbetar som smed, precis som hans far och farfar. Han deltar i byggandet av den första järnvägssträckan Bergen-Oslo och deras första dotter Anna föds 1879, hennes syster Augusta, Marshall farmor, 1881.

Omkring 1905 skriver Gustaf Nordström brev hem till familjen i Sverige och berättar att han tänker besöka hemlandet men det troliga är att han aldrig återvänder. När arbetet med järnvägssträckan blir färdigställd 1882 flyttar familjen till Sauda i Norge där han arbetar som smed i ett gruvprojekt som just startat. Men även om Gustaf bor i Bergen i slutet av 1890-talet och tidigt 1900-tal för att arbeta med järnvägsbygget så återvänder han till Sauda. Där blir han också kvar i resten av sitt liv. Han dör 1942 i en ålder av 92 år.

Gustaf Nordströms båda döttrar gifter sig med norrmän, Marshalls farmor Augusta 1905 med Lars Malde och båda döttrarna emigrerar till USA. Augusta och Lars får 6 pojkar och 1 flicka. Marshalls far Albert föds 1914 i Seattle och avlider 2001. I tonåren bestämmer han sig för att ändra sitt efternamn från Malde till Malden, troligtvis lät Malden mer amerikanskt. Marshalls far, farbröder och faster Cora växer upp med det norska modersmålet. Bröderna Anton, Melvin, Leonard och Henry Malde reser till Alaska vid olika tider under 1930-talet. De arbetar alla inom guldgruvsindustrin och Anton blir dessutom också pälsjägare och vildmarkspilot. Marshalls far Albert tar examen vid universitetet i Fairbanks, Alaska 1940 som gruv- och geologiingenjör. Han blir den ende av syskonen Malde som avslutar college.

Marshall är född i Fairbanks den 3 mars 1941. Japanerna bombar Pearl Harbor i december samma år och hans far vistas under nästan hela andra världskriget på Aleutian öarna i Alaska så Marshall och hans mamma åker tillbaka till Oregon som hon en gång kom ifrån. Efter kriget kommer hans far till Oregon där han och hans fru Neva sedan lever tills de blir pensionärer. Marshall har en syster, Marilyn, som bor med sin familj i Portland, Oregon

1965 gifter sig Marshall med Suzan. Han har då ett arbete inom det internationella affärslivet och blir 1970 förflyttad till Lund för att arbeta med marknadsföring inom ett amerikanskt företag (AB Dixie Cup). Det skulle komma att bli ett äventyr att arbeta med det svenska emballeringsföretaget Åkerlund och Rausing.

Marshall och Suzan har två döttrar, Ann-Britt och Andrea, båda födda i Lund 1970 respektive 1972. 1976 flyttar familjen tillbaka till USA.

Allt eftersom Marshall blir äldre börjar han mer och mer intressera sig för familjens historia. 2010 blir jag, Lena Calmestrand, uppringd av en för mig okänd person som heter Hans Göran. Han säger att han sedan 50 år tillbaka har en vän i USA, Marshall Malden, som funnit att hans farfars far härstammar från Upphärad. Marshall har gett sin vän i Göteborg i uppgift att hitta några av de svenska släktingar. Hans Göran vänder sig då till Trollhättans stad och undrar om han skulle kunna få hjälp och kommunen tipsar honom att kontakta Backstugans Vänner. Eftersom jag själv släktforskar så kunde jag riktigt känna hur nödvändigt det var att verkligen försöka hjälpa till att hitta en tråd att kunna börja nysta i. … och hjälpen kom ganska snart när jag fann bröderna Karl-Evert och Hasse, fast de hade ju inte den blekaste aning om att de hade en tremänning som hette Marshall. Det kändes ju jätteroligt för både mig, Hans Göran och inte minst för Marshall att eftersökningarna hade gett resultat.

Den 20 augusti blev det så dags för hela familjen Malden att besöka Upphärad.
Det regnade den där dagen i augusti, det minns jag så väl. Först gjorde familjen en tur till kyrkogården, sedan blev det besök på Kulla och Smedstorp där ett 30-tal släktingar väntade och lokaltidningen Ttela stod beredd att skriva om den långväga släktforskaren och om hans möte med släkten. På kvällen väntade middag i Lindåsgården. Jag tror det blev en oförglömlig dag för Marshall och hans familj.

Både Marshall, Hans Göran och hans fru, Karl-Evert och Hasse och hans fru är medlemmar i föreningen Backstugans Vänner. Bli gärna medlem du också. Vi behöver många som kan hjälpa till att bevara backstugan Kulla och Upphärads historia till kommande generationer!



<!Ny spalt för högermenyn börjar här>

Vill du bli medlem
100:-/år

Backstugan på FaceBook

En film om Backstugan på YOU TUBE

Gammal film från häradet
Året är 1936

Trollhättans
Stad

Karta

Västergötlands
Hembygds-
förbund

Riksarkivet
Släktforskning

Åkes foto

Reportage till
Mitt i Veckan 2

Intervju med Lena
21 maj 2008

Direktsänt
musikprogram

Intervju med Lena
24 maj 2011

Byggnads-
inventeringen
för Upphärad 1975